You didn't think that little Handmaid's Tale-themed RuVenge plot was the end-all gag of RuPaul's Drag Race All Stars 3, did you? No? Just between us squirrel friends, neither did we.
Whether it's the earnestness with which RuPaul teased what ended up being a standard Drag Race twist across the first half of the season (one queen left, a prior eliminated contestant returned) or the blink-and-you'll-miss-them clues hiding in the trailer for the impending season finale, something tells us Mother has another curveball tucked up in her sequined sleeve and that all of her deliberately misleading(?) handmaidening from the get-go hasn't been for naught.
Thursday night's penultimate episode of the spin-off competition series' third edition closed with a revealing sneak peek at the season closer. After the challenge was unveiled as an expansive song-and-dance venture for which the queens will have to write and record their own lyrics, Ru uttered what has become the most gleefully cryptic phrase in Drag Race herstory, "Oh, and one last thing."
Judging by the footage that follows, that thing appears to be a day of reckoning adorned in wigs and delivered atop man legs in pantyhose. A quick shot reveals the six previously eliminated ladies — decked out in their finest eleganza — sitting in front of a lone, empty chair. Aja's scowling behind Thorgy, who's wiggling her foot (in agitation?!?) as she sits on the same couch as a grimacing Milk. And then there's BenDeLaChrist (née Creme) mugging with the air of being "my kind of winner" (but really a sixth-place finisher) from behind.
As far as we can tell, there are three scenarios in which this setup makes sense:
1) The velvety, vacant throne is reserved for RuPaul, who will sit with the leftover ladies of All Stars 3 and confer with them before deciding the winner.
2) Remember that whacky fan theory that suggested BeBe Zahara Benet, who won Drag Race's debut season, is actually an All Stars spy feeding intel on the other girls to RuPaul and the rest of the judges? She is, after all, a victor already. And that empty chair looks fit for a reigning queen, not a mere mortal in patterned tights. Might the season 1 champ be the lucky lady who gets face time with the All Stars 3 casualties? Perhaps she'll deliver a verdict to RuPaul after hearing what the others have to say.
3) Each of the remaining contestants (Benet, Shangela, Trixie Mattel, Kennedy Davenport) will take turns going "on trial" in front of the queenly court. They'll each make their case for winning to their departed sisters, who will then vote to eliminate one queen to whittle the top four down to the top three. Or, instead of determining who leaves, the eliminated queens could be voting to determine the All Stars 3 winner.
The last option would add a never-before-seen dynamic to the show's elimination format, which sees the power of ousting shift hands between each week's top-performing queen on All Stars while it's the judges who decide who gets the chop back on the main series. At various points throughout the series, however, RuPaul has asked the girls to give their opinion on which gal should be axed from the competition, though a consensus from the other queens doesn't always mean their intended target is sent packing.
Still, that exchange usually occurs between Ru and the queens still in the running for the crown. Asking the jilted women of All Stars 3 who to send home is essentially ripping open the old, gaping wounds that have largely defined this season's dramatic arc and slathering them in salt. If that's the case, Shangela — currently the frontrunner for a spot in the Drag Race Hall of Fame — already has a pair of daggers pointed her way after booting both Thorgy Thor and Morgan McMichaels. Her third victim, Chi Chi DeVayne, clearly felt her elimination was justified (and practically begged Ben not to bring her back as a result), so her vote is up in the air. Milk could also seek revenge on Kennedy Davenport for her unjust, personally motivated elimination, and Aja might finally have the opportunity to get back at Benet for failing to give her proper credit for assisting with her challenge-winning couture.
If a weighted vote among the eliminated queens does determine the next elimination, Trixie Mattel is the lone survivor who doesn't have much to worry about, as she's the only competitor who's yet to pull a lipstick this year.
Cheers to the gag of the season, whatever it may be!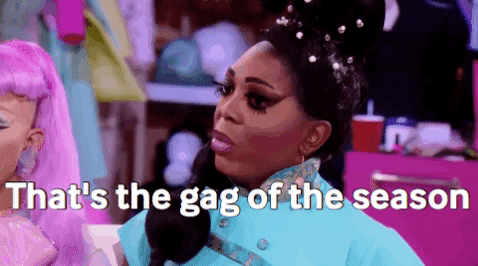 See how it all plays out on the final episode of RuPaul's Drag Race All Stars 3 this Thursday at 8 p.m. ET on VH1. RuPaul's Drag Race season 10 premieres exactly one week later in the same slot.