The best streaming device for every type of viewer
Each product we feature has been independently selected and reviewed by our editorial team. If you make a purchase using the links included, we may earn commission.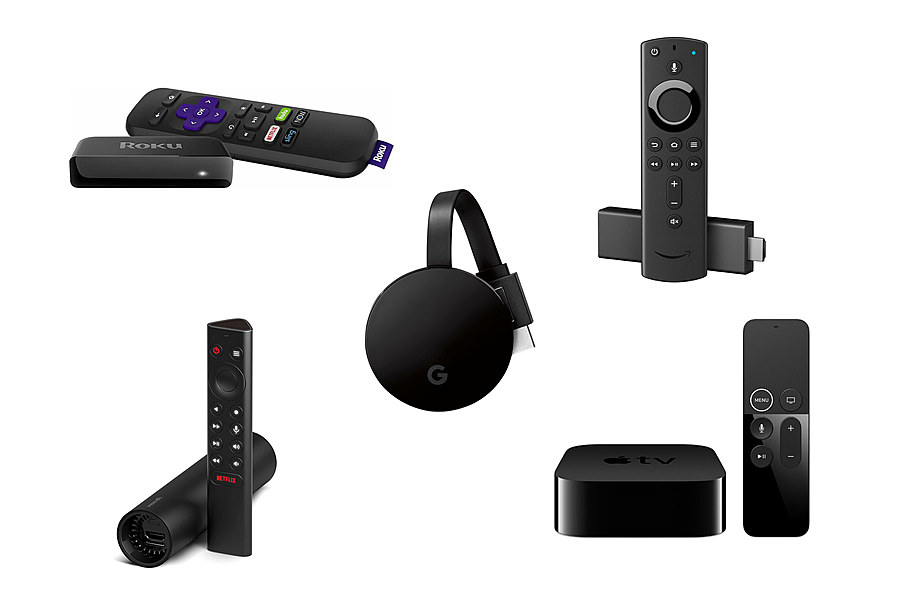 If quarantine 'what to watch' lists have finally driven you to cut the cord and trade in your clunky, overpriced cable box for a sleek, affordable streaming service, you'll want to make sure you get the one that makes the most sense for you. There are tons of streaming services on the market, and while they might have a lot in common, the subtle differences that set them apart can change the whole user experience. You'll be able to access most of the major streaming services from any device you pick, so you have to focus on the actual functionality of the device and the features it comes with to figure out which is best for you.
If you value high-quality images, you'll want a streaming device that's 4K-compatible to ensure that you're not only getting the most from the feature, but also because some devices come with 4K-curated channels so you can enjoy a curated experience. If you're going to rely on a streaming device for gaming, you're going to want to make sure that you're using one with an impressive processing speed and reliable WiFi connectivity. And if you're interested in an traditional live streaming TV experience, you'll want to make sure you're getting a device that offers the best real-time options and the most interruption-proof features.
In this Story:
Though all streaming devices have simple setups, you won't want to go through the process of making yourself at home by downloading all of your favorite apps, logging on and getting comfortable before finding out if the device is compatible with your entertainment needs. Here are the best streaming devices on the market for all viewing preferences, based on customer ratings and reviews.
Best 4K streaming device
The Roku Premiere is a fan favorite for users who value picture quality, but are also looking for a device that's affordable. This device has a trusty connection, some advanced remote control features, like voice control, an easy user interface, and a very broad selection of content for only $39.99. The entire Roku product line and streaming platform offers the best access to streaming apps. Because it isn't owned by Amazon, Apple, Google, or Microsoft, it has to optimize the platform and provide the most content possible. So not only do you get a restriction-free library, but you also get a variety of independent 4K dedicated channels that spotlight 4K content from all corners of the streamverse. Users with 4K TVs are impressed by the picture quality that this affordable device is able to reliably pull in. So if you're not interested in investing in a more expensive 4K option, like the Apple TV, you'll be very pleased with the Roku Premiere's value at a modest price point.
Buy it! Roku Premiere, $38.99 at amazon.com
Best Streaming Device for Sports
For the ultimate sports-watching experience, get the Roku Streaming Stick+ and subscribe to YouTubeTV. This winning combination will provide you with all of the sports you could possibly desire. This device is powerful, fast, and has excellent picture quality. Its connectivity is strong, especially paired with YouTubeTV, so games won't be interrupted — let's be honest, there's nothing worse than dealing with technical difficulties in the middle of a big game.
While there are lots of ways to watch your favorite teams on the Roku Stick+ (the Roku Channel comes with free access to local and national news stations), YouTubeTV is by far the most important service to sign up for if you're a serious sports fan. With over 70 channels and the ability to run up to three different streams at a time and save what you don't watch in your DVR, which has tons of storage space — you won't need anything else. All of the major sports channels are available to customers, like ESPN, Fox Sports, MLB Network, Golf Channel, and Tennis Channel. What's more, the interface is sports fan friendly. You can click the info button on the game you're watching to get the score and details about the line up, and if you're watching an old game from your DVR, you can click the info button to get the final score.
Buy it! Roku Streaming Stick+, $49 at amazon.com
Best live TV streaming device
Roku Ultra is the best live TV streaming device because not only does it have top of the line processing and WiFi connectivity, but it also includes an ethernet port for a stable wired connection, which virtually eliminates any buffer time. It's on the pricier end of the Roku spectrum, but costs less than the premium Apple TV or Amazon models. Ultimately, it's worth it if live TV that actually feels like cable TV is a priority. While lots of other devices offer live streaming, comment sections are littered with complaints about lag times, connectivity issues, and general buggish behavior. The Roku Ultra provides a traditional live TV experience, with improved quality and all of the special features of the future that you want when upgrading to a streaming device.
Buy it! Roku Ultra, $99.99 at amazon.com
Best-rated streaming device
Amazon Firestick 4K with Alexa is one of the highest rated and most reviewed streaming devices on the market. On Amazon alone, the product has 174,316 customer ratings who give the device an average of 4.5 out of 5 stars. Users compare this model to Roku, but note that Amazon has a superior user interface and more advanced platform. People love the simple remote that can control the TV as well. Alexa capabilities not only make it easy to find the content you want to see, but they also allow you to queue up a movie and order a pizza at the same time. And unlike some other voice-powered search engines, the Alexa-enabled remote will understand what you're saying and quickly bring up the answers you're looking for. Even if you only remember one part of the title you'd like to see, Alexa will help you find it, which makes a library of 500,000 choices feel very accessible.
Buy it! Amazon Firestick 4K with Alexa, $49.99 at amazon.com
Best streaming device for the money
The basic Roku Express is one of the cheapest streaming devices on the market, but it doesn't skimp on value to hit that price point. The Roku Express has a simple platform, easy setup and user interface, and provides access to all of the same content as the Roku Ultra and other more premium devices. Read: You're not missing out on content by opting for this budget model. The device comes with both free programming and paid subscriptions. It is ideal for people looking to supplement an older TV with an updated experience, and if you're still paying for cable, you can log on to your provider's app and watch cable on demand via the device for a more efficient way of watching TV. Users agree that the functionality of the device is impressive and reliable. "I finally decided to buy one to help keep my TV relevant...I should have bought one years ago," one Amazon customer wrote.
Buy it! Roku Express HD Streaming Media Player, $29.99 at amazon.com
Best streaming device for mobile phone viewing
If your phone is fully loaded with the apps you love and the content you want to watch, but you'd appreciate an improved way of viewing it, Google's Chromecast Ultra is the missing link. This device will allow you to transmit whatever you want to watch on your phone onto your TV screen. Or if you're watching something on your Chrome browser via your computer, you can beam that over to the TV too — whatever you're watching, whether it's a live stream or an Instagram video, you can easily mirror your computer screen onto your TV screen. Users love how easy this device is to use, and appreciate the fact that you can "OK Google" your requests for an even simpler experience. If you're not interested in committing to a more expensive device with a built-in library and already have the content you like on your phone or available to you via your browser, this is a simple fix with dynamic capabilities.
Buy it! Google Chromecast Ultra, $69 at amazon.com
Best streaming device with voice control
Amazon Fire TV Cube's Alexa-powered remote has a voice control feature that is so responsive and accurate, you can offer commands from across the room and get instant results. No more shouting into your remote, repeating yourself over and over again only to give up and search for the title manually. This remote is sensitive and intelligent and not only hears what you're saying, but uses suggestions to help you find what you're looking for when you don't even have the words. For example, if you're looking for a movie but only know an actor in it, or who directed it, or one part of the title, Alexa will help you find it using whatever information you have, you can navigate a library of over a half a million titles, with the easy of a basic cable lineup.
Buy it! Amazon Fire TV Cube, $119.99 at amazon.com
Best streaming device for gaming
NVIDIA Shield TV Pro is an Android-supported streaming device essentially designed for gamers, but also includes access to streaming all of the major movie and TV content you need. What gamers are looking for is a device that provides a steady flow of content, with great picture quality, that processes every request instantly. This device is 4K-compatible, has Dolby Vision capability, and a TEGRA X1 + processor for super speed. It comes with over 200 games, which are available via Android TV and it has 16GB of storage, so you can hold onto the games you love. The device works with both Alexa and Google Assistant ecosystems, and if you have a habit of losing the remote in the couch, you'll appreciate the remote finder function.
Buy it! NVIDIA Shield TV Pro, $199.99 at bestbuy.com
Best premium streaming device
Apple TV 4K is the most luxurious streaming device on the market — it's the most polished device there is, but it's also one of the most expensive. Users are thrilled with their purchase, praising the device for its "stunning content" and for providing a "future proof" device that will remain revolutionary for a long while. The user experience is intuitive, streamlined, and aesthetically pleasing. If you ever get overwhelmed by the magnitude of options, you can have Siri direct you to your entertainment for hands-free service. Users also appreciate the fact that Siri is so effective, she helps to "get things done" and ensures you won't lose an evening scrolling for something to watch without actually watching something. With Siri, you can search by categories, actors, titles, and more, so you never have to leave the device to look up a title on an external web browser.
Buy it! Apple TV 4K, $199.99 at amazon.com