The best streaming services for kids that won't make you cringe
Each product we feature has been independently selected and reviewed by our editorial team. If you make a purchase using the links included, we may earn commission.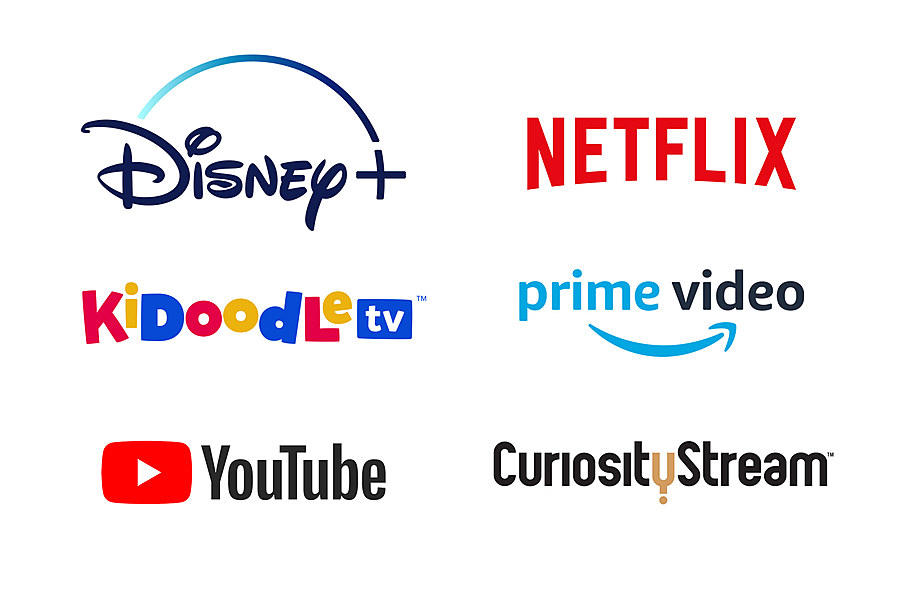 Summer break is practically here, and it's certainly not going to look like the years prior. For most of us, our kids have been home for a few months now and with summer camps canceled and social distancing guidelines still in place, it doesn't look like much will change in the coming months. So, you're probably wondering what on Earth you're supposed to do to keep your little ones (and not-so-little ones) entertained for the next few months? Enter: the best kid-friendly streaming services you can buy now.
In this Story:
The truth is, giving your kids free-rein of the remote control can be kind of, well, scary given the endless amount of content available at the click of a button. To lessen your fears and save you a headache or two, keep scrolling to learn about the best streaming services for kids in 2020.
| | | | |
| --- | --- | --- | --- |
| Streaming Service | Cost | What you'll get | Kid-friendly features |
| Netflix | $8.99–$15.99/month | Thousands of movies and TV shows for every age group | Customized maturity ratings, PIN-protected profiles, disable autoplay |
| Disney+ | $6.99/month or $69.99/year | Access to every Disney animated movie ever created and a selection of Marvel, Pixar, and Star Wars films, plus educational documentaries | Everything is rated PG-13 or below |
| CuriosityStream | $2.99/month or $19.99/year | Thousands of documentaries on topics like animals, geography, nutrition, and politics | Everything is educational |
| Amazon Prime | $8.99–$12.99/month | Thousands of movies and TV shows for every age group | Age restrictions on devices |
| YouTube TV | $49.99/month | 70+ live TV channels | Access to Disney, Disney Junior, Disney XD, PBS Kids, and Universal Kids, along with live sports |
| Kidoodle TV | Free or $4.99/month | Parent-approved streaming content | Hand-picked kid-friendly content, screen time limits, customized interface for each child in the family |
Netflix
If you're new to streaming services, Netflix is a great place to start. Let's be honest, it's definitely one of the most popular services available, and there's content for every age group. For those under 18, Netflix is pretty much a one-stop-shop for any entertainment needs. When it comes to TV shows, there are Netflix originals like Trollhunters: Kids of Arcadia and Chip and Potato, but you'll also find family favorites like Scooby Doo and PJ Masks. And we can't forget the movies. We promise the options are endless.
Netflix offers three monthly plans (basic, standard, and premium) ranging from $8.99 to $15.99. The only difference between plans is how many screens can view content at the same time. For families with multiple screens and children), the Premium plan allows up to four screens being used at once, which means you can binge Breaking Bad on the TV while your kids watch A Wrinkle In Time on the tablet — definitely worth the extra $7 a month. The best part is no matter which subscription plan you choose, every new account gets the first 30 days free. And if you find that your children aren't interested in a month or so, you can cancel your subscription at any time.
There are many parental control features on Netflix as well. You can also create profiles with customized maturity ratings (like PG or PG-13 only) and block particular shows or movies you don't want your kid to watch. If you prefer a pre-set option, the Netflix Kids experience will automatically select kid-friendly shows and movies. Netflix also allows you to PIN protect other profiles — for instance, if you don't want your little one accidentally getting into your profile — and disable auto-play.
Disney+
Calling all Disney fanatics! Disney+ is the streaming service for you. Yes, if your little one can't stop singing "Let It Go," this subscription is a must. Not only will you get access to every Disney animated movie ever created and a selection of Marvel, Pixar, and Star Wars films, there are also tons of educational documentaries that will give you peace of mind that your kids are actually learning during their screen time. Not to mention, adults can enjoy this content, too. Disney+ is releasing the musical Hamilton on July 3 and you can even watch the old-school favorite The Simpsons.
Disney+ offers a monthly subscription of $6.99 or a yearly commitment for $69.99. It's a no-brainer — this subscription is well worth the cash. Even if it's for the Disney animated movies alone, we're sure this streaming service will make family movie nights a whole lot easier (and convenient). Everything on the streaming service is family-friendly and nothing is over a PG-13 rating.
CuriosityStream
If you've got a school-aged child that enjoys learning (or you want to encourage them to enjoy learning), we highly recommend this educational streaming service. CuriosityStream gives you access to thousands of documentaries covering dozens of topics from animals and geography to nutrition and politics. If you're concerned about your child slacking on education, this is a smart way to encourage your child to learn without putting a book in front of them. And thankfully, sneaking a little education into their screen time won't come at a large cost for you. CuriosityStream is just $2.99/month (which is less than a Starbucks coffee) or $19.99/year, so it won't break the bank. We consider this a win-win.
Amazon Prime
Chances are you likely already have access to Amazon Prime. After all, it gives you free two-day delivery on items purchased on Amazon, plus access to a slew of movies and shows you can watch. And since this is a two-for-one subscription, there's really no reason not to buy into it. Oh, and let's not forget ad-free songs to inspire a living room dance party and access to books and magazines. Basically, you should sign up, stat.
Amazon Prime offers three plans (Prime Video, Prime monthly, and Prime annual) that range from $8.99 to $12.99 a month. And like Netflix, no matter which plan you choose, all new users get a free 30-day trial so you can test out the services before committing to it in the long run. Like other services on this list, you can also set up viewing restrictions under the Parental Controls section. Note: The age restrictions will only work on the device they were set up on.
YouTube TV
Before you continue scrolling, no we aren't talking about the millions of YouTube videos you can watch for free on the app. YouTube TV is a paid subscription that gives access to live TV and on-demand shows and movies when paired with devices including Apple TV, Roku, and Amazon Fire TV. This streaming service is most similar to traditional cable since you'll have access to more than 70 live channels. While we don't consider the parental control on this service top-notch (they are very limited), we do think it's a great option for households that don't have a cable provider.
A subscription to YouTube TV will give you access to Disney, Disney Junior, Disney XD, PBS Kids, and Universal Kids, plus dozens of other channels for the adults to enjoy. But the real reason we consider YouTube TV a plus is for sports access. If you have a teen (or tween) that can't stand to miss a sporting event, this subscription is for them. With access to over 15 sports channels including ESPN and CBS Sports Network, there isn't a sporting event they'll have to miss. The only downside to this streaming service is it does come with a hefty price tag. Costlier than all the others, YouTube TV has one subscription option for $49.99 a month. Which means this streaming service really only makes sense if you don't already have access to cable.
Kidoodle.TV
If you're a parent who likes to keep an eagle eye (no judgement here) on the content your kids watch, this streaming service should be top of your list. Kidoodle.TV was created by a family-focused company with access to shows that are picked and approved by parents just like you. Not only can you be sure that all content on this streaming service is appropriate for young eyes, but it also gives you access to control the amount of time your child can watch TV. If you only allow 30 minutes of screen time a day, Kidoodle. TV allows you to set a limit that will shut down the service after the specified time. Another plus is you can set up various profiles that allow you to customize the interface for each child in your family. This way your two-year-old doesn't have access to the same superhero content your 9-year-old can watch.
Kidoodle.TV offers three sign-up options (guest, freemium, and premium). The guest and freemium subscriptions are free and the premium option will cost you $4.99 a month with the main difference being ad-free viewing. All in all, if limiting screen time and kid-friendly content is top of your concern when it comes to streaming services, this is the best option for you.