How to Live Stream NFL Games During the 2020 Season
Each product we feature has been independently selected and reviewed by our editorial team. If you make a purchase using the links included, we may earn commission.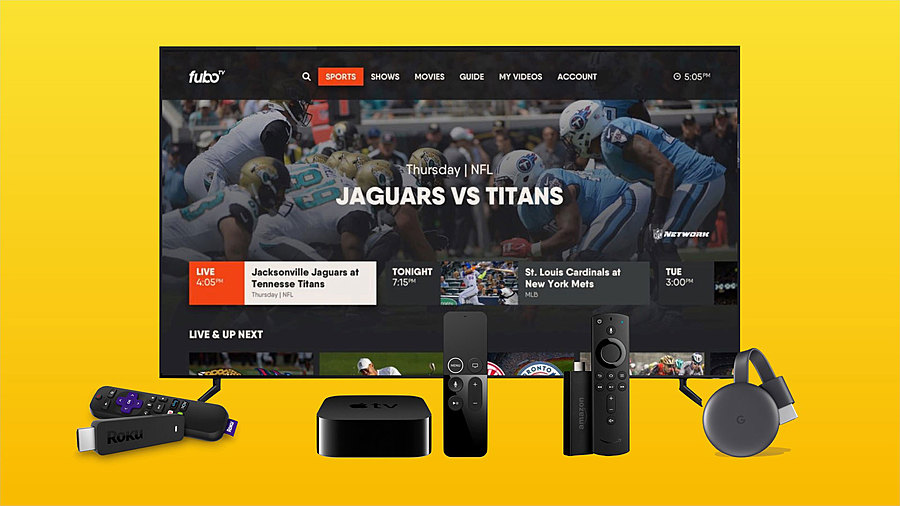 It's almost time for kick-off of the 2020 NFL season and it's never been better for streamers to watch NFL games. With telecasts airing on local channels like CBS, NBC, and FOX, cable networks like NFL Network and ESPN, and streaming on Amazon Prime Video it sometimes is confusing how to stream NFL games.
How to Stream 2020 NFL Games Without Cable
Streaming NFL Games
While you can watch games on local channels with your antenna, you will need a Live TV Streaming Service to make sure you can watch every game.
You can stream Thursday Night Football (Amazon Prime Video), NFL on CBS, NFL on FOX, Football Night in America (NBC), and Monday Night Football (ESPN).
You can choose between fuboTV, Hulu + Live TV, Sling TV, AT&T TV NOW, Vidgo, and YouTube TV.
Best Options
fuboTV ($60) offers everything you need to stream NFL games, like CBS, FOX, NBC, ESPN, NFL Network, as well as NFL RedZone (which is part of their $11 Sports Plus add-on).
If you don't need NFL Network, you can get locals and ESPN with Hulu + Live TV ($55), which you can try with a 7-Day Free Trial.
All Live Streaming Options
Streaming Local NFL Games
If you're a fan of an NFC team, most of your team's games will air on FOX in your local market. If you're a fan of an AFC team, however, most will be on CBS.
If most of your team's games air on CBS, one option is to subscribe to CBS All Access which is just $5.99 a month, after a 7-Day Free Trial. With it, you can watch your local CBS affiliate on your favorite streaming player, mobile device, or tablet.
If you don't mind watching on the small screen of your smartphone, the NFL will once again offer free streaming of local games in the NFL and Yahoo! Sports apps.
Streaming NFL RedZone
If you want the joy of watching multiple NFL games at the same time, NFL RedZone is the best way to watch. Currently, fuboTV and Vidgo are the only services that offer the channel, after Sling TV dropped it in June.
It has also been reported that YouTube TV may be adding the channel in time for 2020 kickoff.
For those who don't need to watch NFL RedZone on their TV, it's available in the NFL Mobile App for $34.99 for the entire season. Verizon Wireless subscribers are eligible for a $25 discount on that using Verizon Up rewards program.
Streaming Out-Of-Market NFL Games
If you live far away from your favorite NFL team, your best option is NFL Sunday Ticket Online. Not everyone is eligible though. To watch, you have to live in an apartment or dorm without access to DirecTV.
For most people, it will cost $300 per season, or $400 if you also want NFL RedZone and NFL Fantasy Zone. But, if you're a student, you can get NFL Sunday Ticket Online for just $100, which is quite a steal.
Another option is NFL GamePass, which doesn't offer live telecasts, but allows you stream games on-demand immediately after they air. You also will be able to stream radio broadcasts.