How to Stream Super Bowl LV On Hulu
Each product we feature has been independently selected and reviewed by our editorial team. If you make a purchase using the links included, we may earn commission.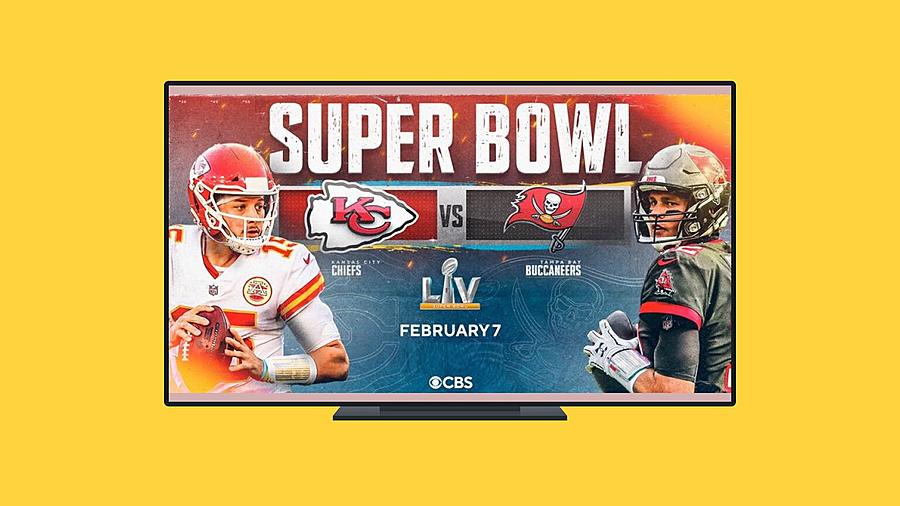 021 is Super Bowl LV, with reigning champion Patrick Mahomes' Kansas City Chiefs taking on Tom Brady's Tampa Bay Buccaneers. You can stream it live for free with a 7-Day Free Trial of Hulu + Live TV.
How to Watch Super Bowl 55 Live For Free
You can stream Super Bowl LV on Apple TV, Roku, Fire TV, Android TV, Xbox, PS4, PS5, iOS, Android, and your Computer.
The pre-game kicks off at 11:30am ET, with Super Bowl Today starting at 2pm ET.
11:30 a.m. ET-12 p.m. ET: That Other Pregame Show
12-1 p.m. ET: Road to the Super Bow
1-2 p.m. ET: Tony Romo goes to the Super Bowl
2-6 p.m. ET: The Super Bowl Today
6-6:30 p.m. ET: Super Bowl on CBS Kickoff Show
For the second time as an announcing tandem, Jim Nantz and Tony Romo will call the Super Bowl, along with reporters Tracy Wolfson, Evan Washburn and Jay Feely and Rules Analyst Gene Steratore.
Following their victory against the Packers in Green Bay, The Tampa Bay Buccaneers have ascended the totem pole to the Football Boss Battle of 2021: The Kansas City Chiefs, the reigning champions who defeated the Buffalo Bills 38-24, advancing to their second straight Super Bowl.
Leading the Buccaneers is star quarterback, Tom Brady, whose ninth Super Bowl appearance has him vying for a seventh ring. The Chiefs have up-and-coming Patrick Mahomes in their corner, however, and the guy's no slouch. Mahomes was awarded Super Bowl's Most Valuable Player for his performance in 2019-2020, becoming the youngest QB to win the title, and the second African-American to win the award after Doug Williams.
Besides seeing Mahomes and Brady go head to head, Super Bowl 55 is especially groundbreaking for other reasons: If the Chiefs win the game, it will be the first team to repeat since Brady's Patriots in 2005; an especially promising feather in the cap for Reid and Mahomes, as matching Brady would further signal his rising stardom. If the Buccaneers take home the Lombardi Trophy instead, however, it will also be historic: They would be the first team ever to win a Super Bowl in their home stadium.