Everything you need to know about the Amazon Fire TV Stick
Each product we feature has been independently selected and reviewed by our editorial team. If you make a purchase using the links included, we may earn commission.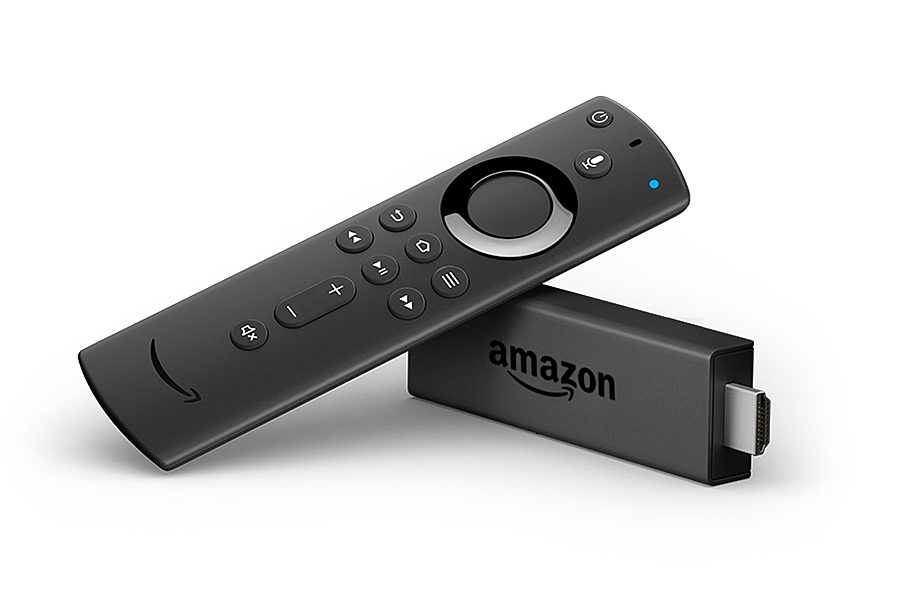 Whether you're looking to cut ties with your cable provider or find streaming options for your family, chances are that, unless you're living under a rock, you've heard of the Amazon Fire TV stick. And while streaming media players are becoming increasingly popular, it can be difficult to know which one is best and exactly what they offer before taking the plunge and purchasing one.
In this Story:
The Amazon Fire Stick allows you to stream your favorite shows and movies directly to your TV. And even though it's not exactly the same thing as a cable box, more and more households are choosing it over that hundred-dollar monthly cable bill, even if it means slightly limiting what you can watch. Ahead, we break down everything you need to know about the Amazon Fire TV Stick and how you can snag one for yourself.
How does the Amazon Fire Stick work?
The Amazon Fire Stick works when paired with a Wi-Fi connection. When you open your Fire TV Stick, you'll notice a Fire TV plug-in (that looks similar to a USB flash drive) and a Bluetooth remote. The plug-in is your streaming media player and transforms any TV set into a Smart TV. Once you sign into your Amazon account, you can begin downloading apps to access your favorite TV shows and movies. It is important to note that even though you can download practically any app for free, you must pay for subscription-based apps like Netflix, YouTube TV, and Disney+ separately. But all content (movies, shows, music and photos) you've already purchased on Amazon will be available for streaming right away.
You'll also receive a Bluetooth remote with your Fire TV purchase. The remote has a built-in microphone that allows you to use voice commands to control your TV just as you would speak to any Alexa-supported device. You can also use the remote to control certain smart home products like the Ring doorbell, iRobot vacuum and Ecobee thermostat.
How to use an Amazon Fire Stick
Once you plug the Fire Stick into the HDMI port, you'll be prompted to sign-in to your Amazon account and begin downloading your favorite apps. Some apps are free, but others require a paid subscription, which you'll have to purchase separately. That's one point we must stress, so we'll say it again: You can download apps that require a paid subscription, but will only be able to access their libraries if you purchase a subscription separate from the Amazon Fire Stick. So, purchasing an Amazon Fire Stick won't get you free access to Netflix, Hulu, or YouTube TV. But as always, there are tons of free apps included like Tubi, IMDb, Pluto TV, and more.
What channels are offered on Amazon Fire Stick
If you're debating which streaming service to use instead of opting for cable, one thing is non-negotiable: what channels you can watch. After all, isn't that the entire reason you want a streaming device anyway? The Amazon Fire Stick offers a well-rounded choice of free channels that won't disappoint. Below we listed some of our top picks.
YouTube
Sony Crackle
Pluto TV
PBS
Freelix HQ
Tubi
IMDB TV
Xomo TV
Freeform
FilmRise True Crime
NASA
ExpressVPN
What apps can I have on the Amazon Fire Stick?
The app options on the Amazon Fire Stick are endless. We're talking thousands and thousands that are available right at your fingertips. Some are free to access and others require a monthly or annual subscription fee. Everything from Netflix, Hulu, and Disney+ to Apple Music, Pandora, and Spotify can be accessed through your Amazon Fire TV Stick.
How to set up an Amazon Fire Stick
When you purchase the Amazon Fire Stick, you'll receive a remote, power adapter, 2 AAA batteries, HDMI extender and the Fire TV plug-in. Setting up the Fire TV is relatively simple.
Plug the power adapter into an outlet and the Fire TV plug-in into the HDMI port of your television.
Insert the AAA batteries into the remote and it should automatically pair with the Fire TV. If not, press and hold the home button on the remote until paired. This should only take a few seconds.
Use the "Source" button on your remote to locate the HDMI signal for the Fire TV.
The home screen will prompt you with directions to set up your device.
How to reset an Amazon Fire Stick
Like all smart devices, you may run into a few glitches that require a reset process to fix. No need to fret here, it's kind of like when your cell phone spazzes out and you need to power it off and back on again. It's normal and totally expected when it comes to technology.
Resetting the Fire Stick is fairly simple, but it's important to note that it will erase all data and customized settings you previously paired with the device.
Click on the "Settings" tab on your Fire TV. You can find the Settings tab on the top of your home screen or you can choose to press and hold the home key on the remote until you see the Settings option.
Find and click on the "My Fire TV" option. Some devices may say "Device" or System"
Scroll until you see "Reset Factory Defaults." This step may require a PIN. If you are prompted to enter a PIN, do so at this time.
Click "Reset." A pop-up will let you know that the device is resetting and this may take a few minutes to complete.
Once the reset is complete, the device will automatically restart.
When the device restarts, you will need to re-enter all your information including connecting it to your Wi-Fi and Amazon account.
Amazon Fire Stick vs. Roku: What's the difference?
While there are some differences between the Amazon Fire Stick and the Roku, they are more similar than you'd think. The price tags aren't vastly different; both options come with access to every app imaginable; and they have the same basic functions overall.
One feature that Roku offers that differs from the Fire Stick is a personalized home screen. Roku allows you to arrange the apps however you please, so you can access your most popular apps without scrolling through dozens of others first. Not to mention, it's not filled with unnecessary ads that make the Fire Stick's home screen very busy and slightly overwhelming. If the Alexa supported voice control is top of your priority list, the Fire Stick is your go-to because Roku's voice command is much more complicated than the Amazon version. So much so that we don't even recommend using the feature at all. But bottom line, both devices are similar enough that your streaming options wouldn't differ drastically if you purchased one over the other.
How much does an Amazon Fire Stick cost (and is it worth it)?
While it may seem like the Amazon Fire Stick should come with a hefty price tag, you may be surprised to know the opposite is true. For the Fire TV Stick, you can expect to pay $39.99, but it's possible to get it for even cheaper during various sales and promotions, including Amazon Prime Day and Black Friday. The Fire TV Stick 4K comes in at just $10 more at $49.99 and works with 4K video instead of the 1080p high-definition that comes with the original version.
It's also important to note that both the original stick and the 4K version require Wi-Fi access to use, so if you don't have an internet service in your home, that additional cost would be required.
Considering all you get with the Amazon Fire TV Stick, it's well worth the moderate investment. Especially when compared to a monthly cable bill, this one-time fee streaming service is a great option to save money without giving up access to your favorite TV shows and movies.
Is there a monthly fee for Amazon Fire Stick?
There is no monthly fee required to use the Amazon Fire Stick, which is a major plus compared to other streaming services. All you'll need to do is purchase the Fire Stick itself, and you can use it as little or as much as you'd like.
Where can I buy an Amazon Fire Stick?
Of course, the Amazon Fire Stick is available for purchase on Amazon itself. But if you prefer to shop in-store for your Fire Stick, check your local Target, Best Buy, or Staples.