During an MTV Video Music Awards loaded with subtext and rivalries — including the biggest of all at the moment, Taylor Swift and Katy Perry — it was the women of Fifth Harmony who made the most pointed statement. At the very beginning of their performance of "Down", the singers took the stage with five members, before one jumped off the stage.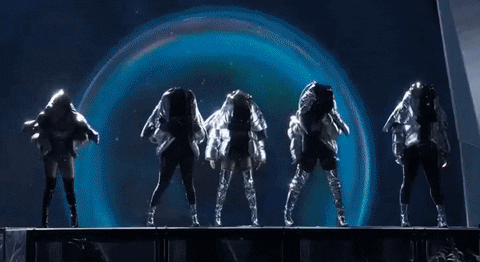 The figure was presumably meant to fill in for Camila Cabello, who very publicly left the successful girl group at the end of 2016.
The gasp-inducing move was pointed at as a highlight of the broadcast.
Earlier, Fifth Harmony's Lauren Jauregui may have teased the dramatic opening when she told PEOPLE, "We're extremely excited. This is definitely one of the biggest moments of our careers — something we've worked so hard for to get to a place where people would want us on the stage, so we're excited as heck for it… there are so many surprises."
But before the show, the women of Fifth Harmony found themselves in the middle of an awkward red carpet moment, when Charlamagne tha God asked the women if they planned to split one of their awards, were they to win, with Cabello.
Fifth Harmony just released their self-titled LP, Fifth Harmony on Friday.