Get ready for your next major TV obsession: The new WGN America drama series Pure takes you into the shocking world of Mennonite farmers caught up in the deadly dealings of an international drug cartel. Pure, based on real events, debuts this Wednesday, January 23, but we're bringing you an exclusive sneak peek of the first 10 gripping minutes, in which a shocking murder intrudes on a seemingly peaceful community of Mennonites.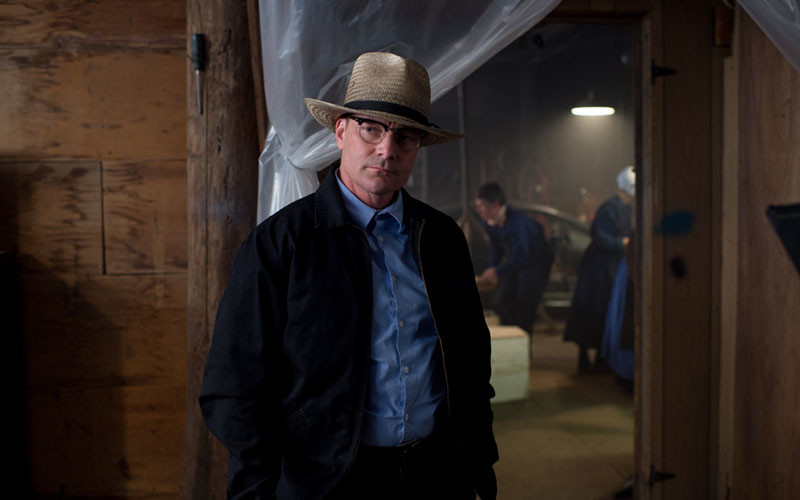 "Almost a decade ago, when I first came across news reports of the 'Mennonite Mob,' I was incredulous and intrigued," says Pure's showrunner, Michael Amo, who is himself the descendant of Russian Mennonites. "Somehow a tiny group of deeply traditional and conservative Anabaptists—partnering with their cartel neighbors—had created a drug-smuggling pipeline that ran from Mexico through the U.S. and into Canada."
In this first look at season 1, you'll meet the deeply conflicted hero Noah Funk (Ryan Robbins), a farmer who has never driven a car or used a telephone, and who is pulled out of his world of dairy cows and daily prayer with a call to rid the community of drugs. You'll meet Bronco Novak (A.J. Buckley), a slovenly detective and former high school classmate of Noah's, who's hanging on to his career by a thread and hopes a big bust will put him back in the good graces of his imperious police chief. You'll also get your first look at Noah's sweet and docile wife, Anna (Alex Paxton-Beesley), who will later prove that you should never trust first impressions.
A mysterious car crash and a missing child with the face of an angel start things off with a bang:
In the following episodes you'll get to know Noah's children, the pious Isaac (Dylan Everett) and the smart and understandably suspicious Tina (Jessica Clement); you'll learn about the intersecting relationships and romances between the Funk family and the Novak family; you'll meet a Texas-based narcotics detective with a very familiar face (spoiler alert: It's Rosie Perez!); and you'll learn how cheese wheels, milk jugs, and horse-buggies can make excellent hiding places for millions of dollars' worth of cocaine (not to mention a dead body or two).
For more Pure, catch the original series debuting Wednesday, January 23, 10/9C on WGN America.