Grab a bowl of popcorn and set aside your Wednesday nights to dive into the fascinating world of Mennonite drug runners in the new WGN America original series Pure. The drama, based on true events, follows a group of farmers—the Mennonite Mob—who worked in tandem with Mexican drug cartels to transport drugs all across North America. If that's not enough to get you hooked, here are seven more reasons: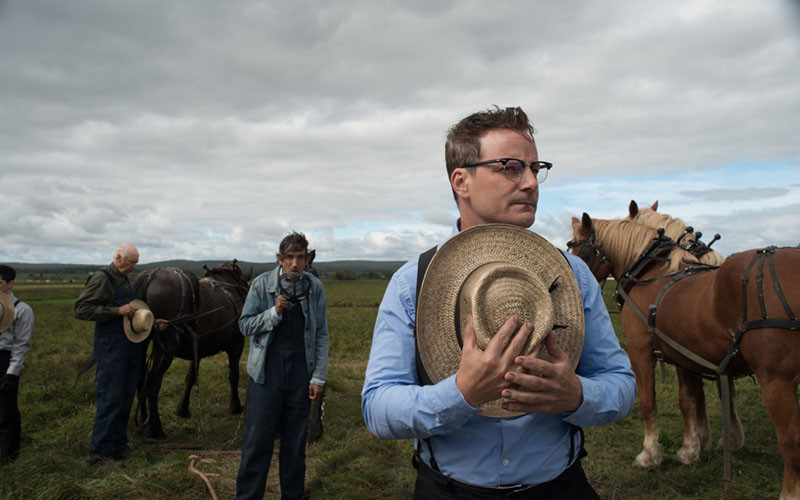 1. It takes you inside a world you've never seen before
You may have bought cheese or crafts from a Mennonite farmer, and you've read about the dangers of international drug cartels, but to see those worlds collide in one unlikely story? This based-on-facts tale is more shocking and addictive than anything else you'll see on TV.
2. The very modern marriage of Noah and Anna Funk
Anna (Alex Paxton-Beesley) may wear a bonnet and speak softly, but she's no meek, obedient pastor's wife. Once she realizes what Noah (Ryan Robbins) has gotten himself into, she shows her wily intelligence and fierce love for her family by coming up with double-dealing schemes to protect her husband and children. You never doubt for a moment that Noah and Anna have a marriage of equals, even if she did briefly consider leaving the Mennonite community for an auslander (outsider) beau when she was in high school.
3. Bronco Novak is our new favorite crumpled cop
When we first meet police detective Bronco Novak (A.J. Buckley), he's lying in bed in a cheap motel room getting his badge stolen by a prostitute. You're never quite sure what's going on in his mind, but Bronco eventually emerges as one of the few decent men in a world corrupted by greed. And did we mention that he's got a history with Noah's wife Anna?
4. The trio of teens could be the next big thing
Keep your eyes on the three intriguing actors who play the teenage kids caught up in their parents' troubles: Aaron Hale is Bronco's dreamy graffiti artist son Ben; Jessica Clement is Tina, the Mennonite daughter who wants to explore the outside world (with the help of Ben); and Dylan Everett is Isaac, who resists the encroaching world by doubling down on his religious commitment.
5. The scenery is breathtaking
An old-fashioned horse and buggy making its way through majestic mountain scenery; green fields dotted with sheep and cows; the graceful simplicity of a Mennonite church and farm. If you can look past the dead bodies and heaps of powdered cocaine, the scenery will make you wistful for simpler times.
6. There's a very familiar face at the border
If you don't recognize her voice at first (the iconic "New Yawk" accent has been replaced by a Texas twang), you'll certainly recognize the face of actress Rosie Perez, who plays DEA Special Agent Phoebe O'Reilly. Despite her initial misgivings, Phoebe works with Bronco in their quest to take down the Mexico-Mennonite Mob.
7. Where else can you hear Mennonite hip-hop music?
One of the ways the Mennonite drug dealers evade the law is by speaking to each other in Plattdeutsch, a Low German dialect that very few auslanders can understand. Not only do the actors master the difficult dialect, but the closing credits feature catchy, contemporary hip-hop music—in Plattdeutsch, of course.
Catch the premiere of the original series Pure Wednesday, January 23, at 10/9C on WGN America.