The Australian comedian presented the award for best directing in a drama series, and won the award for best presenter
"Hashtag #notallmen –– but a lot of them."
Australian comedian Hannah Gadsby set the internet on fire earlier this year with her Netflix stand-up special Nanette, and she returned to do the same at this year's Emmy Awards.
Phil McCarten/Invision/AP/REX/Shutterstock
Gadsby presented the trophy for Outstanding Directing for a Drama Series (it went to The Crown, by the way, for standout episode "Paterfamilias") but the real prize was for all of us, who got to see Gadsby take the stage.
"This nobody from nowhere gets this sweet gig," Gadsby began, "Just 'cause I don't like men…. That's joke, fellas. Calm down."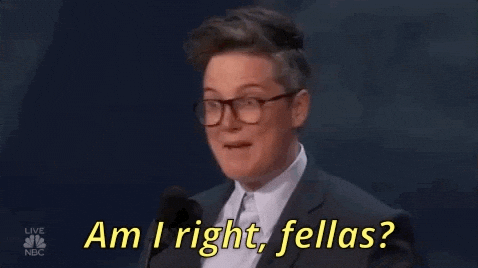 Thanks to her expert comedic timing, her few seconds on the Emmy's stage refreshed what had been a lagging ceremony (minus a certain public proposal). If you don't know who Gadby is by now, it's time you find out: In Nanette, Gadsby deconstructed the genre of stand-up comedy, and advocated for LGBTQ people and women who have been victims of sexual harassment.
The Emmy winner, Stephen Daldry, wasn't present to accept the award, and so Gadsby left the stage. "Well done, him!" she said. 
Find out everything you need to know about the 2018 Emmy Awards ceremony, winners, and more.