Justin Davis; William Morrow Paperbacks
Alice Bolin's new book is called Dead Girls, but she herself is very much alive. (And yes, that's definitely the first time she's ever heard that joke). The pop culture critic just released a collection of essays that is ostensibly about our country's obsession with true-crime and murder mysteries, but she also shares fascinating and insanely relatable stories about her upbringing (by two librarians) in a very small town, her slightly ill-advised move to Los Angeles, and so much more.
The tome has been drawing praise from authors like Megan Abbott (Give Me Your Hand) and Carmen Maria Machado (Her Body and Other Parties) and is also the July pick for Emma Roberts' book club — mostly owing to her all-too-real skewering of the dead girl pop culture industrial complex. Whether it's Gone Girl or True Detective or the countless true crime documentaries that have become Internet darlings, no one can turn away from these whodunits — and Bolin is here to explain to us all why that's so problematic. Don't worry, though: Dead Girls isn't here to ruin your favorite binge-worthy shows, but rather to help us all consume them with a little bit more thought.
RELATED: How celebrity book clubs are changing the literary world for good
Below, Bolin takes EW's author Q&A, letting us in on her favorite writing snacks and what she's looking forward to reading next.
ENTERTAINMENT WEEKLY: What is the first thing — ever — that you remember writing?
ALICE BOLIN: I started writing the day I realized I could read, on Christmas vacation when I was 5, a stream of unreadable stories with no spaces and no punctuation.
What is the last book that made you cry?
It's sort of embarrassing, but the last one I really remember crying hard at is Jess Walter's Over Tumbled Graves, which I read four (!) years ago.
What is your favorite part of Dead Girls?
My favorite thing I've ever written is the long essay that ends the book, "Accomplices," which reflects on my experiences moving to Los Angeles and, in a meta way, on the difficulty of writing coming of age or innocence lost narratives, and the dangers that lurk in creating — or reproducing — satisfying stories.
Which book is at the top of your current to-read list?
I've got a galley of Briallen Hopper's Hard to Love staring me in the face right now.
Where do you write?
In bed, at coffee shops and bars, at my kitchen table, and on my couch.
Which book made you a forever reader?
My parents are both librarians, so I feel like I was anointed a reader from birth. One book that totally changed the way I read was The View from Saturday by E.L. Konigsburg, which I read first in fifth grade and then many times after that.
Pick a GIF that you think, in this moment, best describes you and your book: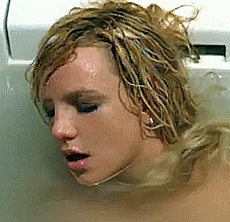 What is a snack you couldn't write without?
Maybe string cheese, as evidenced by the wrappers covering every surface in my house and office.
What was the hardest thing to write in Dead Girls?
The hardest thing in general was writing about my own experiences, since I am racked with shame about everything I've ever done.
If you could change one thing about any of your books, what would it be?
I wish I hadn't said that the reality soap opera was ignored by popular critics. I basically just thought it was a funny line, but I have been understandably roasted for it, since so much Internet criticism is about parsing low culture, reality TV included.
If Dead Girls had a movie tagline it would be:
I'd probably just steal Hole lyrics: "DEAD GIRLS… Live Through This" or "DEAD GIRLS… How'd You Get So Desperate? How'd You Stay Alive?"