Pod save this book!
Dan Pfeiffer has become internet-famous (or rather, iPhone-famous) for his part in the much-beloved political podcast Pod Save America — on which, along with his friends and former White House colleagues Tommy Vietor, Jon Favreau, and Jon Lovett, he discusses national politics and the chaos of the Trump administration as they see it. And as many Friends of the Pod know, humor shines through it all. (Well, almost all of it — sometimes they're just plain angry.)
Now Pfeiffer brings that signature mix of knowledge and biting comedy to the printed page with Yes We Still Can: Politics in the Age of Obama, Twitter, and Trump. The book examines how the political landscape has changed since the Obama administration, attempts to explain the factors at work behind the 2016 election, and offers a path forward. EW caught Pfeiffer in between his many appearances to ask him a few burning questions, and he shared some of his most formative books, his favorite snacks, and the GIF that explains everything.
What is the first thing — ever — that you remember writing?
In second grade, I wrote a plaintive letter to Ronald Reagan asking him to stop pre-empting The A-Team with his nationally televised addresses. He didn't listen or respond, and now I am a Democrat.
What is the last book that made you cry?
Fates and Furies, by Lauren Groff.
What is your favorite part of Yes We Still Can?
Reminding myself, and hopefully the readers, that it wasn't that long ago that we had a different kind of president.
Which book is at the top of your current to-read list?
Other than books by Barack and Michelle Obama, I am really looking forward to reading Transcription, by Kate Atkinson, which comes out this fall.
Where do you write?
In coffee shops, with my headphones on, playing the same hip-hop playlists over and over.
Which book made you a forever reader?
James and the Giant Peach, by Roald Dahl.
Pick a GIF that you think, in this moment, best describes you and your book: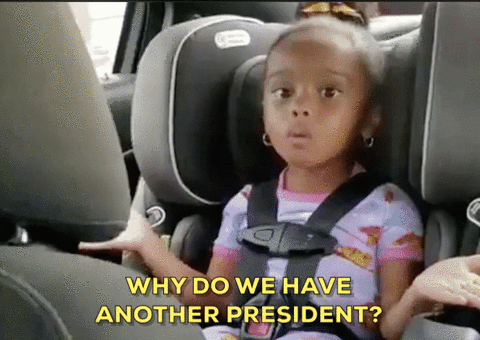 What is a snack you couldn't write without?
Is coffee a snack?
What was the hardest thing to write in Yes We Still Can?
The hardest part was talking about what is happening in politics right now, since it changes every minute with every tweet. For example, I had to repeatedly rewrite the part talking about Trump's communications directors — to keep up with all the hirings and firings.
If you could change one thing about any of your books, what would it be?
I wouldn't have written this book if Trump had not won this election, so I wish this book didn't exist. (But he won, so please read it.)
If Yes We Still Can had a movie poster tagline, it would be:
"Laugh, cry, and then go vote."